For Conveners
Major Session Related Changes and Notifications
・Oral slots will be initially allocated based on the number of abstracts of the most recent year that the session was held.
・There will be no online poster session week.
・Online poster sessions will be held in parallel with other oral sessions on a different day from their corresponding oral sessions. For joint sessions, online poster sessions will be held during PM3 if requested by the conveners.
・15 minutes per oral slot are to be allocated for flash talks by poster presenters. In principle, all poster presenters are requested to give a flash talk.
・There is no need to assign a chairperson to the online poster session.
・In case there is no oral session, the flash talk will be held during the online poster session.
・The 2023 meeting will be held in the hybrid format (both on-site and online), however, we may move to a fully online meeting depending on the COVID-19 spread situation. Please watch for the announcements and updates from the Meeting Organizing Committee.


SESSION PROPOSAL PROCEDURES
Session Proposal Submission Period: OCT 3 (Fri) at 2PM- NOV 2 (Wed) at 5PM JST, 2022
*Conveners including co-conveners must have a JpGU ID in order to be registered in the system.

*AGU member can obtain an ID using their AGU account information.

*The JpGU ID obtained using the AGU membership, with 6 digits ID starting with 50-, is not categorized under JpGU Member but the discounted meeting registration rate is applied.

* AGU members who would like to become a JpGU member should obtain a JpGU member ID from the "Obtaining JpGU ID" button above, without going through the JpGU-AGU linkage system.

IMPORTANT NOTES for conveners who are newly obtaining a JpGU ID
・Each convener should have a JpGU ID, regardless of the type (regular, participation ID, AGU ID), to propose a session or to be listed as co-conveners.
・The registration fee has a notable difference between JpGU members and meeting participation ID holders (non-members).
*The registration fee will be the same for both onsite and online registration as in 2022. (There is no one-day ticket.)
*The ID category cannot be changed or deleted once it's used to propose a session or submit an abstract.
Please keep using the same ID throughout the year. One person can only have a single ID.
If you wish to change your ID category, please contact us BEFORE using it.
・If you become a JpGU Member as of Oct 3 - December 2022, the annual due of 2022 year is charged.
In addition to this, the annual due for 2023 year will be required in order to attend the 2023 meeting in May.

PROPOSE A SESSION
Session proposals are accepted from the system below.
ABOUT ABSTRACT SUBMISSION
Abstract Submission Period: JAN 11 (WED) - FEB 16 (THU) at 5PM JST, 2023 (Early Bird Deadline: FEB 2, 11:59PM JST)
Roles and tasks of Session Conveners during Abstract Submission Period

・Conveners can view the abstract title and name of contributor(s) of the submitted abstracts to their session.
The abstract body will be available after Thursday, February 16 at 5PM JST.

・ Conveners are expected to monitor their sessions and are responsible to ensure that all planned submissions including invited abstracts are submitted by the deadline.
Please note that invited authors are not exempt from the processes associated with abstract submission and fees.

・Conveners may designate one of own submissions as oral presentation and use the time for panel discussion.
At 2023 meeting, the flash talk by poster presenters is requested to be given during the designated time frame in the oral slot. Conveners do not need to submit an abstract to secure a time for flash talks.

SPECIAL FRAMES TO ORGANIZE ORAL SESSIONS
The following three types of frames are available for designing a session.
Flash talk frame for poster presentations


(required)

15 min/ oral slot
One frame per oral slot must be set for a flash talk by poster presenters.
It will be listed just as "Flash talk for poster presentation" on the program and no description will follow.
*It cannot be set to less than 15 minutes.
*If this frame is not set properly, we will ask the conveners for the session reorganization. If the conveners do not meet the deadline, the PC will have the right to exercise completion of the session organization.

Introduction
Less than 15 min
This frame cannot be extended beyond 15 minutes.
The maximum usage allowed of this frame is once per slot.
It will be listed just as "Introduction" on the program and no description will follow.

Discussion
Less than 15 min
This frame cannot be extended beyond 15 minutes.
The maximum usage allowed of this frame is once per slot.
It will be listed just as "Discussion" on the program and no description will follow.

SESSION ORGANIZATION
Session Organization Period: FEB 24 (Fri) - MAR 15 (Wed) at 5PM JST, 2023 (Acceptance and transfer: by March 2 )
Session Organization Procedures
*All tasks of session organization must be performed through the designated online system.

1. Conveners are responsible to review all submitted abstracts and accept or reject them.

2. Conveners may suggest to transfer the submitted abstract to a more appropriate session using the system.
If the suggestion is not accepted, the abstract remains in the originally submitted session.

3. Conveners may register (flag) the invited status to the submitted abstracts if any.

4. Conveners must assign presentation format, oral or poster, to each abstract and decide the presentation or posting (if poster presentation) order.
Poster requests should be honored and given priority. In case of accepting a poster-request abstract as oral, conveners must contact the author and have his/ her consent BEFORE finalizing the session organization.
If the contributor selected "oral or poster" as a format, conveners have the right to decide the format.

5. Assign one or more chairpersons for each oral time slot.
JpGU ID is required to all chairpersons to be registered on the system.
Conveners are responsible to contact the chairpersons about their designation. JpGU does not intermediate or have system to send invitations to chairperson.

REGULATIONS & GUIDELINES
JpGU has important REGULATIONS and GUIDELINES related to session organization.
Please take your time to read and understand them.
SESSION LANGUAGE
Both English and Japanese are the official language at the JpGU annual meetings.
Session language will be selected at the discretion of the conveners.
| | | |
| --- | --- | --- |
| Session Language Code | Slides and Posters | Oral |
| E | English | English |
| J | English or Japanese | English or Japanese |
*Presenters may choose their presentation language (English or Japanese) in J sessions.
INVITED AUTHORS & FINANCIAL SUPPORT
・Each session can have up to TWO invited presentations (oral or poster) and ONE invited poster presentation (3 invited presentations in total) per an oral slot.
* Union sessions, public sessions and E sessions are exempt from this rule.
▶
Union Session Guidelines
▶
Public Session Guidelines
▶
Benefit for E sessions
Invited authors are also required to complete all necessary procedures for presentation and participation, such as abstract submission, payment of submission fee and participation fee, etc. JpGU will not submit abstracts on behalf of the invited authors. JpGU also does not provide travel expenses for any participants, including invited authors.
If the convener will cover the submission or participation fee due to unavoidable circumstances, please contact the secretariat.
Please refer to the
Invited Presentation Guidelines
for details.
・The potential invited authors will be listed on the website. Conveners are requested to register the name(s) of their invited authors on
the session proposal system
to be listed on the above-mentioned website.
The final invited list will be posted together with the final meeting program after the session organization is completed.
Introduction of Diversity Promotion Logo
JpGU has been working on the promotion of diversity and has introduced a logo to visualize the diversity of the session conveners since 2021.
At JpGU 2023, we plan to keep this promotion by using a gold-based logo for sessions that meet three of the following criteria: multiple genders (especially female), multiple career stages (early career researchers up to seven years after obtaining a degree), and multiple nationalities (whether foreign researchers are included), and a silver-based logo for sessions that meet two of these criteria.
We would appreciate it if you could take this into consideration as much as possible when selecting conveners.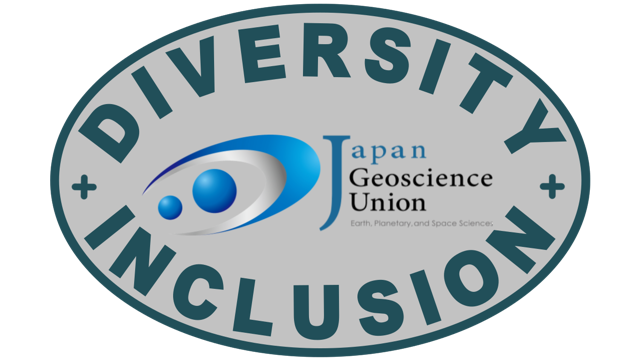 How to apply
Please apply using the form below.
Request for Cooperation as OSPA Judges
Japan Geoscience Union is promoting outstanding research presentations by the students and to improve their research presentation skills. We have established the Outstanding Student Presentation Award to recognize students who have given excellent presentations at the Japan Geoscience Union meetings.
The Student Award Committee aims to allocate two to three judges for each presentation and we will need the cooperation of a large number of judges to reach our goal.
We would like to take this opportunity to ask for the active cooperation of all conveners who have a deep understanding of the field of your own Session and the contents of the presentations. For this purpose, we will take the liberty of registering all conveners as candidates for judges (around April).
Thank you in advance for your cooperation.
CONTACT FORM FOR CONVENERS
Please contact the Program Committee using the designated
Conveners Contact Form
if you have any inquiries or concerns related to sessions and scientific program.
MAILING LIST
・All announcements for conveners will be communicated using the conveners' mailing list.
*The email address registered on the JpGU system at the time of session proposal will be used in the mailing list.
Please update your email address prior to the proposal if necessary.
・Please contact
us
if you would like to change your email address.
JpGU 2023 CONVENER TASK CALENDAR
At least one convener should be available during the period
in red
in the calendar below.
All tasks can be worked by co-conveners as well.
In case the main convener is not available to work on with the tasks, please make sure that one of the co-conveners completes them.
Date *All in JST
Schedule
2022
OCT 3 (Mon) 2PM - NOV 2 (Wed) 5PM JST
Propose a session from JpGU Online Session Proposal System.
*JpGU ID is required to log in to the system and propose a session.
NOV 4 (Fri) - 7 (Mon)

Review process by Program Committee (PC)

PC may contact conveners regarding the proposed session. At least one convener must be available during this period.


If no reply is received from the convener, the PC holds the right to make the decision.


Conveners of newly proposed sessions may request for 2 slots during this period. (If no request, one slot will be assigned.)

NOV 8 (Tue)

Program Committee Meeting #1

The Committee will review the proposed sessions and accept/ reject.
Union and Public sessions are to be selected at this point.
NOV 9 (Wed)

Acceptance/ rejection notification

Accepted sessions are informed the pre-assigned time slots.
Sessions contacted by the PC regarding merging should decide and inform the result to the PC by NOV 17 (Thu) for the Program Committee Meeting #2 on DEC 1.
NOV 10 (Thu), 7PM - 16 (Wed), 5PM JST

Period to submit Additional Requests

Conveners may request for the following specific logistical conditions during this period.
・date(s) to avoid
・successive scheduling with other sessions
・avoidance of conflict with similar sessions
▶Details on Additional Requests are available HERE.

All requests must be completed from the designated system by the deadline.
Potential invited authors may also be listed through the proposal system during this period.
*There is no deadline to register a potential invited authors. Please enter the information on the system when it's decided.
NOV 17 (Thu) - 30 (Wed)

Program Planning by Program Committee

Representatives of each section will make an initial program plan.
Multidisciplinary and Interdisciplinary sessions are categorized under the 5 sections based on the "Main Section" selected during the proposal procedure.


At least one convener is requested to be available during this period.

DEC 1 (Thu)

Program Committee Meeting #2

Program committee will finalize the session schedule.
DEC 9 (Fri)

Session List Release

The accepted sessions will be published on the website.

DEC 13 (Tue)

Session Schedule Preview (Convners only)

Conveners will receive the session schedule (not for public viewing).
DEC 13 (Tue) - 16 (Fri)

Online Poster Session Schedule Adjustment

Conveners can request to change the date and time of the online poster session if necessary.
*Oral schedule change cannot be requested.
DEC 19 (Mon)

Session Schedule Release

Session schedule and potential invited authors list will be published.
(Invited authors' list will be frequently updated hereafter.)

2023
JAN 11 (Wed), 2PM - FEB 16 (Thu) 5PM JST

Abstract Submission

Early bird submission deadline:FEB 2, 11:59PM

Final deadline: FEB 16, 5PM JST

Conveners are expected to monitor their session during this period.
If you are planning to designate a discussion time frame during a session, please submit an abstract during this period.
Conveners can view the title and name of submitters to their session from the session organizing site. Abstract body is viewable after the submission period.
Conveners are expected to monitor the submissions of their invited authors as well.
FEB 24 (Fri), 7PM - MAR 2 (Thu) at 5PM

Acceptance/ Rejection & Transfer

Conveners are responsible to review and accept/ reject the submitted abstracts to their session.
Conveners may request to transfer an abstract to a more appropriate session.
Invited authors must be registered at this point.
MAR 7 (Tue)

Final Slot Adjustment

Time slot allocation will be adjusted after the deadline of abstract submission.
The adjustment will be made based on the total number of submitted abstracts after transfer to finalize the number of assigned slots.
MAR 8 (Wed) - 15 (Wed) at 5PM

Session Organization Period

Conveners should finalize the presentation format of each abstract and assign the presentation or posting order.
Conveners must designate the chairperson(s) for each slot in this period.
MAR 22 (Wed)

Acceptance Notification

JpGU Office sends our Notification letters via emails to the contributors.
MAR 24 (Fri)

Final program will be published on the website.

Name of author(s), abstract title, date and time of presentation, presentation format will be made public.
MAY 12 (Fri)

Abstract Release

Abstract PDF is published on the website.
MAY 21 (Sun) - 26 (Fri)

JpGU Meeting 2023