About JpGU 2023
Greetings
JpGU Meeting 2023 Chair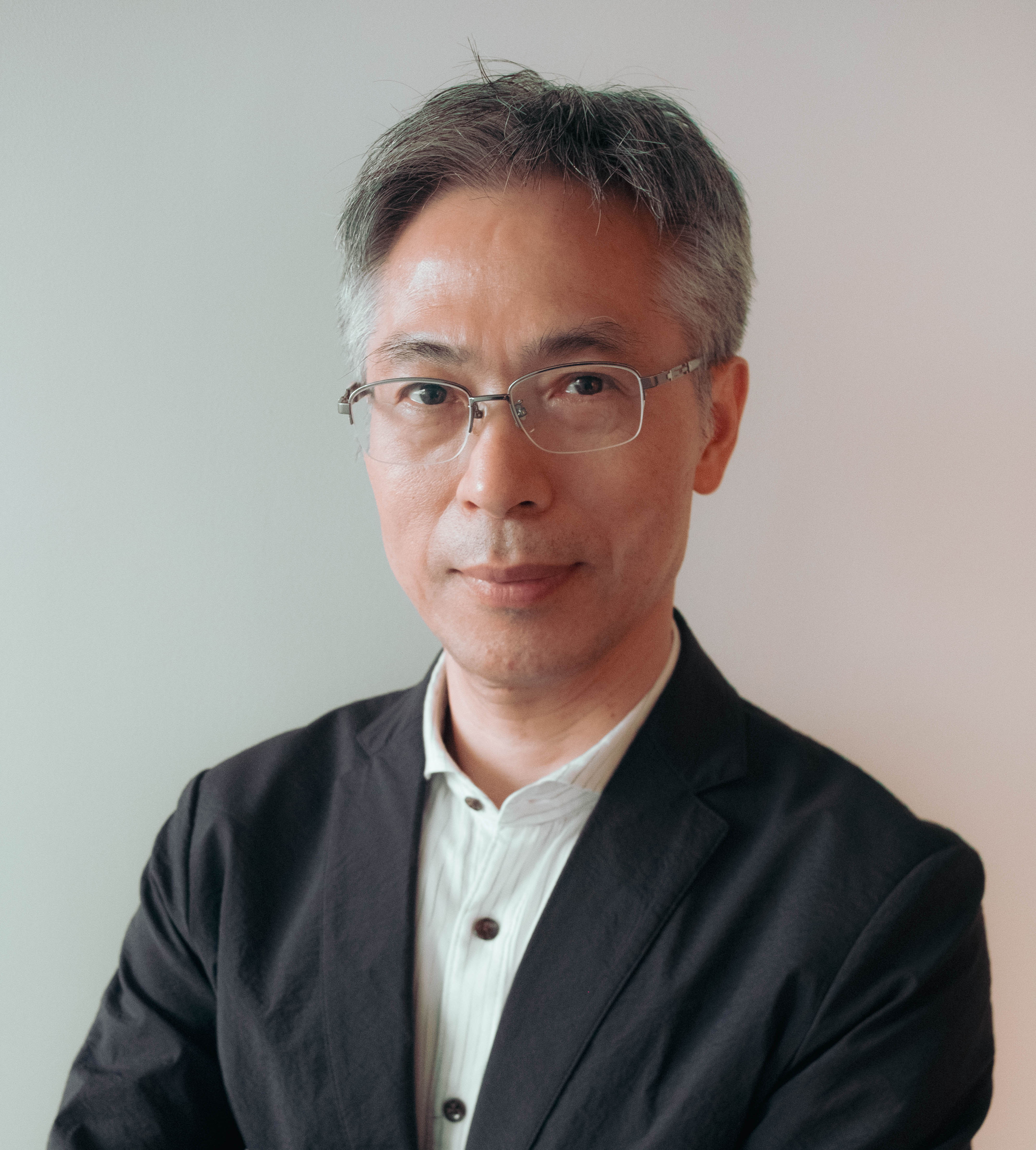 Wanglin YAN (Keio University)

JpGU is a large organization of 51 academic councils related to earth and planetary sciences with about 10,000 members. Before the pandemic, we have seen about 8,000 participants every year in Makuhari, enjoying beer in the poster hall and wandering around the exhibition hall looking for souvenirs, literally a festival of earth and planetary sciences. Since 2020, the breakout of COVID-19 restricted face-to-face meetings. The waves of infection have forced the meeting to be held two years in a row in a completely online format, and the 2022 meeting conducted a hybrid format for the first time. Despite these restrictions, we were able to welcome as many participants and presenters as before without losing out to the coronavirus. I am sure that everyone involved in the meeting management must have worked very hard to organize the meeting. I would like to express my sincere appreciation for their efforts.
Although many cases of infection have been seen in the Asian region recently, it appears that the situation has reached a plateau and is heading toward a lull. In light of this situation, the annual meeting 2023 is planned to be held in a hybrid format as the meeting 2022. Compared to the online-only format, this will provide more opportunities for face-to-face interactions, which is very welcome.
On the other hand, regardless of the coronavirus situation, I believe that hybrid meetings will become the new normal for future congresses. By taking advantage of the merits of both, work and travel schedules can be made more flexible. Although this may place a burden on the meeting management, we hope that the new tools for managing content and promoting communication will bring convenience as well as new experiences and insights to the participants, and we hope that you will join and enjoy the meeting again.
We will try to provide you with up-to-date information so that you can choose whether to participate on-site or online at the appropriate time and in the appropriate way. We encourage you to apply regardless of the form of participation and look forward to lively discussions both onsite and online.
JpGU Meeting 2023 Program Committee Chair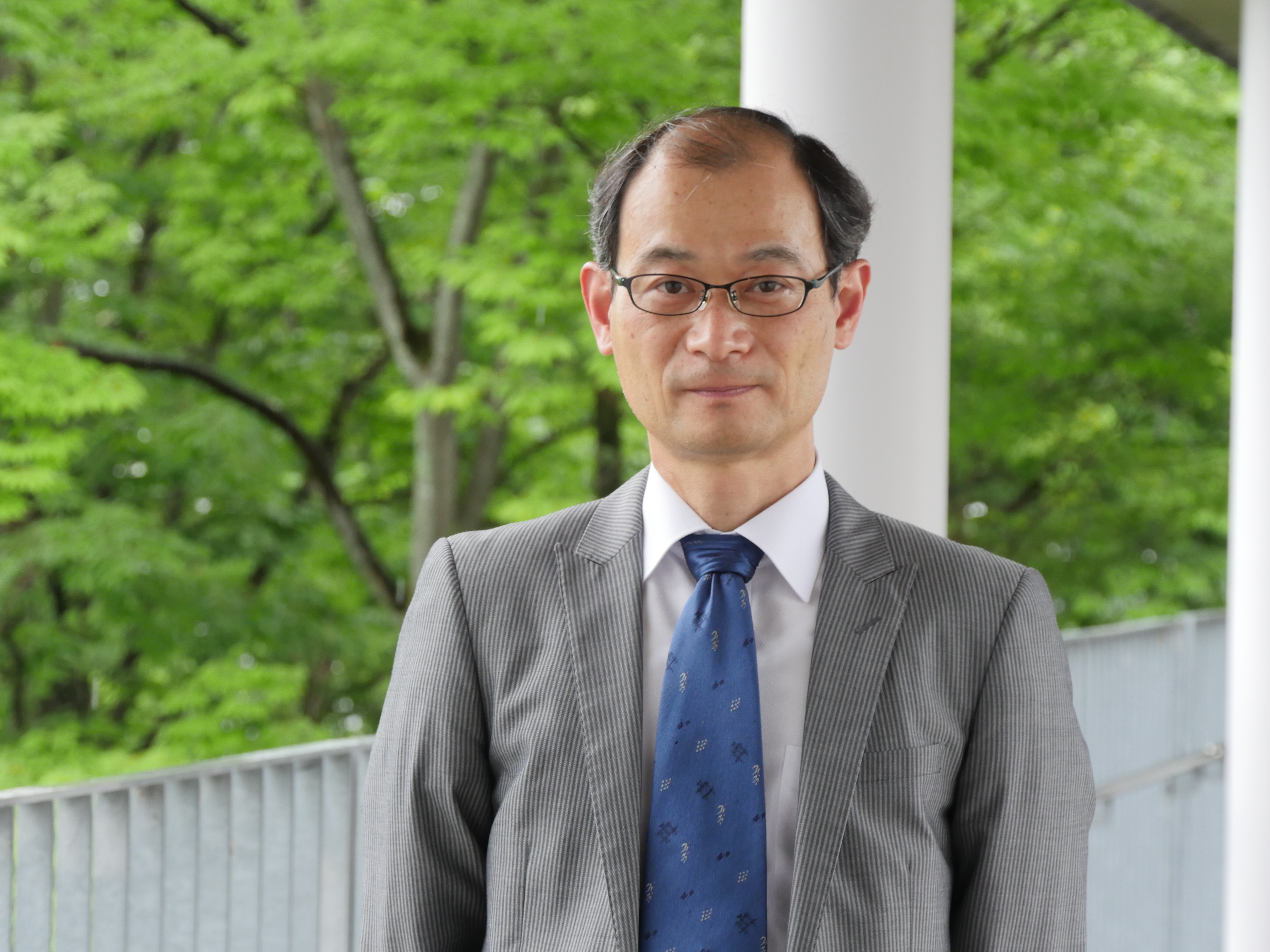 Tetsuya TAKEMI (Disaster Prevention Research Institute, Kyoto University)
We are now accepting session proposals for and moving forward to JpGU Meeting 2023. JpGU2023 will be held in a hybrid mode with in-person meetings at Makuhari Messe in Chiba and online attendance.
More than two years and a half have passes since the outbreak of COVID-19 in 2020, and online communications have become a daily scenery. Nonetheless, the value of in-person communications is now recognized. In the past JpGU meeting in 2022, well-designed sessions combining the merits of both in-person meetings and online communications were organized through seeking an updated JpGU meeting in the with-/post-COVID19 era, although there were comments on the long duration of JpGU2022.
As in JpGU2022, JpGU2023 will consist of hybrid oral sessions and in-person/online poster sessions; all the sessions in JpGU2023 will take place within a week. We, JpGU2023 Program Committee, will make the best effort to organize sessions that would stimulate interactions among in-person and online attendees by providing platforms for the presentations of both oral and online modes and for in-person and online discussion. In order to enhance scientific discussion among the attendees, we would ask conveners to propose well-designed, well-focused sessions and to structure their sessions to promote communications among in-person and online participants.
We, the JpGU2023 Program Committee members, are willing to contribute to making JpGU2023 a successful meeting with a lot of scientifically attractive sessions and with high satisfaction in the advantages of both in-person and online communications.
Meeting Outline
Name of the meeting
Japan Geoscience Union Meeting 2023
Dates
Sun, 21 - Fri, 26 May 2023 *6 days
Meeting format
Hybrid (On-site and online )
See HERE for details on the presentation format.
On-site venue
MAKUHARI MESSE, Chiba
Host
Japan Geoscience Union
Contact
Contact us via the Contact Form if you have any inquiries.
*Oral presentations will be given live both online via Zoom and on-site at the local venue. In addition, on-site poster presentations (without online webcast) will also be held. We are also planning to have the online poster session to be conducted utilizing online video conferencing system for posters presentations and discussion.
* It is possible that we may have to cancel the on-site meeting.
In that case, there will be no on-site poster presentation, but all oral sessions and online poster sessions will be held online following the original schedule and program.
*See
HERE
to learn about COVID-19 Safety Protocols at the venue.
Key Dates
2022
Mon, 03 OCT
Call for Session proposals opens (14:00 JST)
Wed, 02 NOV
Call for Session proposals closes (17:00 JST)
Fri, 09 DEC
Sessions list release
Mon, 19 DEC
Session schedule-at-a-glance release
2023
Wed, 11 JAN
Call for abstract submission starts (14:00 JST)
Thu, 02 FEB
Early abstract submission deadline (23:59 JST)
Thu, 16 FEB
Final abstract submission deadline (17:00 JST)
Tue, 07 MAR
Registration opens (14:00 JST)
Wed, 22 MAR
Notification of abstract acceptance
Fri, 24 MAR
Scientific program release
Tue, 11 APR
Deadline for presenter registration
Fri, 12 MAY
Abstract PDF release
Sun, 21 - Fri, 26 MAY: JpGU Meeting 2023
* All dates and deadlines are set in Japan Standard Time (JST).
Session Hours
| | |
| --- | --- |
| AM1 | 9:00-10:30 |
| AM2 | 10:45-12:15 |
| Lunchtime | 12:15-13:45 |
| PM1 | 13:45-15:15 |
| PM2 | 15:30-17:00 |
| PM3 | 17:15-18:45 |
*Oral sessions and online poster sessions will be held in parallel during AM1, AM2, PM1, and PM2 time slots.
*PM3 is the on-site poster session hour (core time).
For joint sessions, online poster sessions will be held during PM3 if requested by the conveners.
Presentation Format & Language
Presentation Formats
Two formats are available for presentations: oral and poster.
JpGU accepts either orals-and-posters or posters-only session.
Some sessions will be posters-only sessions.
Presentation formats are assigned by session conveners. Oral presentations cannot be requested; however posters may be requested and should be given priority.
If you would like to present a poster, please select the format as "poster" when submitting your abstract.
Oral presentations

・Oral presentations will be given live on-site or online via Zoom. Also, pre-recorded presentation videos can be played and viewed during the session.

・Presenters are free to choose to give their presentations either on-site or online.

・Even if all the presentations are online, they will be broadcasted to the on-site local venue.

・In general, the duration is fixed at 15 minutes/talk including discussion time.

Poster presentations

・All poster presentations are requested to be posted online in the online meeting portal "Confit".
Questions and answers can be made using the comment function.

・In principle, poster presenters are requested to give a flash talk during the designated time during the oral session.

・Presenters who wish to present at the local venue will be assigned a poster board to give a presentation there (optional). The poster venue can be used all day even outside the core time.

・In the online poster session, each presenter will have an opportunity to present his/her paper via video conferencing system and discuss with the participants (optional).
* See
HERE
to learn the requirements for presentation confirmation.
Session Language
Session language is either English and /or Japanese.
Session language is selected by the session convener.
| | | |
| --- | --- | --- |
| Session Language Code | Slides and Posters | Oral presentations |
| E | English | English |
| J | English or Japanese (presenter's choice) | English or Japanese (presenter's choice) |
*In E sessions, English should be the main language used for the presentation including information on slides and posters. Japanese may also be used where appropriate, e.g. for asking questions.
*It would be helpful if the slides and posters in J sessions could accompany English so that participants who cannot read Japanese could understand the contents.
Fee Table
Annual Dues
*Consumption tax is not charged.
Regular
(Including K-12 teachers and JpGU senior members)
2,000 JPY
Graduate Student
1,000 JPY
Up to Undergraduate Student
0 JPY (Free of charge)
Abstract Submission Fee
*10% consumption tax included.
Early-bird abstract submission payment processed within
14:00 Wed, 11 January - 23:59 Thu, 02 February 2023
6,600 JPY/ abstract
Regular abstract submission payment processed within
Fri, 03 February - 17:00 Thu, 16 February 2023
8,800 JPY/ abstract
About Registration Fee
・As the meeting is a hybrid event, the registration fee will be the same for both onsite and online registration. (There is no one-day ticket.) We would like to ask for your kind understanding and cooperation as we will make every effort to make this hybrid event even more fulfilling.
・The meeting registration fee is different depending on your JpGU ID category. (See the figure below.)
・If it is decided that we will move to a fully online meeting before the registration is open, we will reconsider the registration fee.
・In case we have no choice but to move to a fully online meeting after the registration is opened due to the spread of COVID-19, we will ask you to pay the original registration fee considering the ongoing preparations and the meeting system implementation. Please understand that no refunds will be made.
【Image of Expenses for Participation per ID 】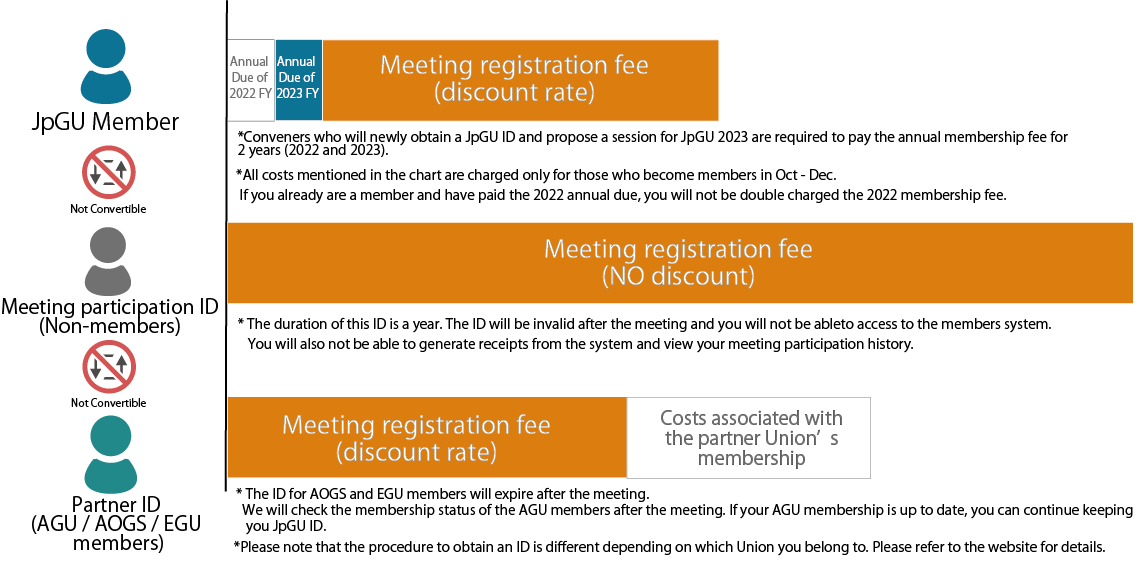 Registration Fee
*10% consumption tax included.
*Discount rates apply also for AGU, AOGS and EGU members.
*Nonmember rates (no discount) apply for Meeting Participant ID (Nonmember ID) holders.
Meeting registration fee
Member discount rate
(applies also to AGU, AOGS, EGU members)
Standard rate
(no discount)
Regular
25,300 JPY
36,300 JPY
K-12 Teachers
12,100 JPY
17,600 JPY
Graduate Students
12,100 JPY
17,600 JPY
Seniors (JpGU Members only)*
12,100 JPY
-
Up to Undergraduate Students
Free
* Senior (70 or above) rate applies exclusively to JpGU regular members.
Regular member rate applies to AGU, EGU, AOGS members or Meeting participation ID holders even in this age range.
Payment Methods
The only method accepted for payments is by credit card on the online system.
Bank transfer by affiliated institutions is not available.
If you have any inquiries regarding payments or you experience difficulties in using credit cards, please see the
Payment page
.