Events & Ceremony
Announcement of Career Counseling Session organized by Committee for the Diversity Management and Talent Pool
During the Japan Geoscience Union 2023 Meeting, we will be conducting career counseling sessions (in-person & online). Please refer to the website below for more details.
We have counselors who are members of JpGU and are researchers from various fields, and individuals working in science-related jobs outside of academia. Please feel free to join us.
・Face-to-face consultation: No appointment is required. Please confirm your preferred avisor or time on the website above and come directly to the booth. The Career Counselling Booth at the on-site venue is located next to 103 on the 1st floor of the International Conference Hall.
・Online consultation: Reservations are required. Please confirm your preferred advisor or time on the above website and make a reservation through the reservation page.
Exhibitors' Seminar and Exhibitors' Pop-up
Seminars and workshops by exhibitors will be held during the meeting.
They are free of charge for the meeting attendees.
We hope you will take advantage of this opportunity!
GeoFut23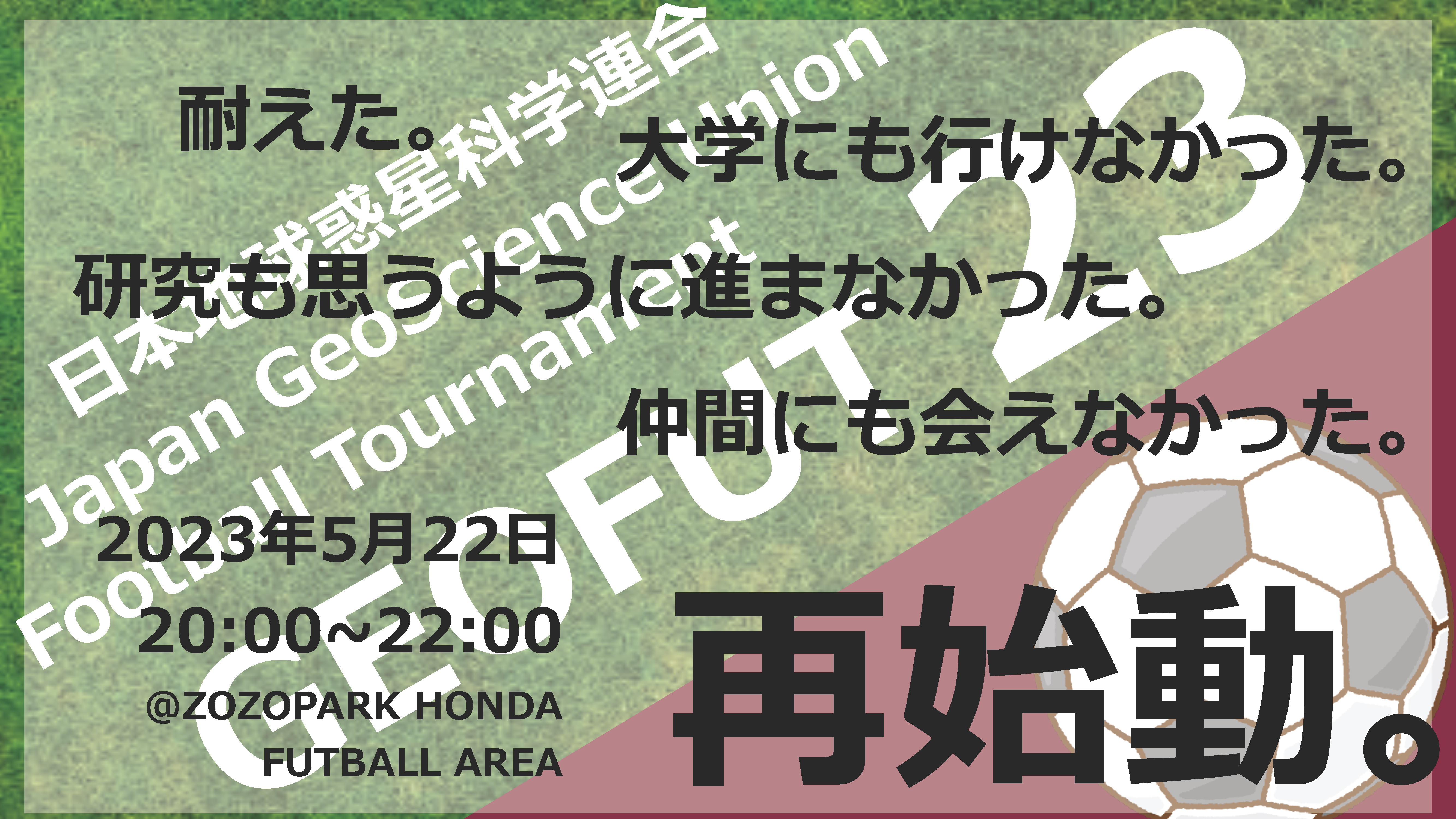 Date and Time
20:00-22:00 Mon, 22 May
Place
ZOZO PARK HONDA FOOTBAL AREA

Who can participate
All meeting attendees
Participation fee
Team participation 15,000 yen/team, (+500 yen each for the 10th person and after)
Individual participation: 3,000 yen/person
*Insurance included

Capacity
Up to 9 Teams
How to join
If you have any questions on GeoFut 23, contact us at futsal@jpgu.org.
Field Trip
Two tours are planned for this year.
Stone viewing in the heart of Tokyo!
Date and Time
Mon, 22 May
Place
Around Tokyo Station
Participants can choose either Kaihin Makuhari Station or Tokyo Station as the meeting place.

Who can participate
Participants of JpGU 2023
Participation fee
Free
Lunch is not included

Capacity
20 participants
(if the number of participants exceeds the limit, a lottery will be held).
How to apply
*Application deadline has passed.
Field Trip Leaders
Dr. Shoji Nishimoto and Prof. Chiaki Oguchi
Description
The participants will explore the geological significance of the stone materials used in department store buildings around Tokyo Station and visit the stone walls and water gates of Edo Castle on a cruise along the Sumida River. Prof. Nishimoto, the author of 'Tokyo "Street Corner" Geology' book, will explain Tokyo city's significant geological sites. Explanation will be provided in English.
*Cruise is a charged option.

Submarine-Mass Transport Deposits (MTDs), Boso Peninsula, central Japan
Date and Time
Sat, 27 May
Place
Around Katsuura, Chiba area

Who can participate
Participants of JpGU 2023 and accompanying persons
*Application required for accompanying persons too
Participation fee
3000JPY
Capacity
40 pepople
*If the number of participants exceeds the limit, applications will be accepted on a first-come-first-served basis.
The tour will be canceled if the participants is less than 10 people.
How to join
Please apply from the following form.
*Application deadline: 17:00 Wed, 17 May 2023 [JST]
Guide
Prof. Yuzuru Yamamoto (Kobe Univ.)
Description
This one-day field excursion aims to see deformation characteristics of ancient MTDs on the Boso Peninsula, central Japan. Many of map-scale MTDs (> a few tens of kilometers) developed just above the late Pliocene to Pleistocene Kurotaki Unconformity apparently formed in relation to the change in convergent direction of Philippine Sea Plate to the Amur Plate. Visiting three coastal outcrops is planned. Hope to enjoy beautiful structures and tectonic/mechanical discussions with participants.