Takehiko Mikami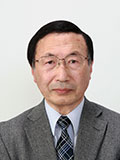 Commendation
for outstanding contributions to climatology, in particular to the understanding of global scale climate change, the urban heat island phenomenon, and paleoclimate reconstruction.
A list of five major papers
Zaiki, M., G. P. Konnen, T. Tsukahara, P. D. Jones, T. Mikami and K. Matsumoto 2006. Recovery of nineteenth-century Tokyo/Osaka meteorological data in Japan. Int. J. Climatol. 26: 399–423, DOI: 10.1002/joc.1253.
Hirano, J. and T. Mikami 2008. Reconstruction of winter climate variations during the 19th century in Japan. Int. J. Climatol. 28: 1423–1434, DOI: 10.1002/joc.1632
Mikami, T. 2008. Climatic variations in Japan reconstructed from historical documents, Weather, 63: 190-193, DOI: 10.1002/wea.281.
大和広明・ 三上岳彦・ 高橋日出男 2012.夏季日中における首都圏のヒートアイランド現象に海風が与える影響、地学雑誌、120:325—340.
成田健一・三上岳彦・菅原広史・本條 毅・木村圭司・桑田直也 2004.新宿御苑におけるクールアイランドと冷気のにじみ出し現象、地理学評論、77:403-420, 2004.
Nominator
Jun Matsumoto