Takashi Nakata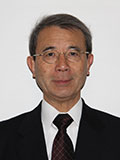 Commendation
for outstanding contributions to tectonic geomorphology, in particular to the understanding of active faults and their relationship with earthquakes.
A list of five major papers
Shimazaki, K. and Nakata, T. (1980): Time-Predictable Recurrence Model for Large Earthquakes, Geophysical Research Letters,7,279-282.
Nakata, T. (1989): Active Faults of the Himalaya of India and Nepal,Geological Society of America Special paper,232,243-264.
中田 高・蓬田 清・尾高潤一郎・坂本晃章・朝日克彦・千田 昇(1995):1995 年 兵庫県南部地震の地震断層,地学雑誌,104,127-142.
中田 高・島崎邦彦・鈴木康弘・佃 栄吉(1998):活断層はどこから割れ始めるのか?,地学雑誌,107,512-528.
Nakata, T., Goto, H., Watanabe, M., Suzuki, Y., Nishizawa, A., Izumi, N., Horiuchi, D., Kido, Y. (2012): Active Faults along Japan Trench and Source Faults of Large Earthquakes. Proceedings of the International Symposium on Engineering Lessons Learned from the 2011 Great East Japan Earthquake, 254-262.
Nominator
Yasuhiro Suzuki