Shigeo Aramaki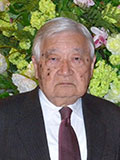 Commendation
for outstanding contributions to volcanology, in particular to volcanic geology and the petrology of volcanic rocks; and numerous contributions to spreading the understanding of volcanology and raising awareness of the necessity of volcanic disaster preparedness.
A list of five major papers
Aramaki, S. and Yamasaki, M. (1963) Pyroclastic flows in Japan. Bull. Volcanol., 26, 89-99.
Aramaki, S. (1963) Geology of Asama Volcano. Jour. Fac. Sci., Univ. Tokyo, sec. 2, 14, 229-443.
Aramaki, S. (1971) Hydrothermal determination of temperature and water pressure of the magma of Aira caldera, Japan. Amer. Mineral., 56, 1760-1768.
Aramaki, S. (1984) Formation of Aira caldera, -22,000 years ago, southern Kyushu. Jour. Geophys. Res., 8485-8501.
荒牧重雄(2007)富士山の火山防災マップと防災対策の展望.「富士火山」日本火山学会 477-490.
Nominator
Masaki Takahashi