Michio Nogami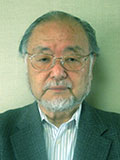 Commendation
for outstanding contributions to geomorphology, in particular to climate geomorphology and the understanding of the global surface environment.
A list of five major papers
野上道男(1968):Cordillera Real (Bolivia) の氷河.地學雜誌,77,125-140.
Nogami, M. (1989): Numerical land information in Japan. Transactions, Japanese Geomorphological Union, 10-A, 147-156.
Nogami, M. (1990): Simulation of evolutional process of longitudinal river profile using experimental flume and computer. Geographical Reports of Tokyo Metropolitan University, 25, 195-211.
野上道男編著(2006):環境理学―太陽から人まで.古今書院,261p.
野上道男(2011):地形発達シミュレーションの枠組みと実行例.地学雑誌,120,486-501.
Nominator
Toshihiko Sugai