Kiyotaka Chinzei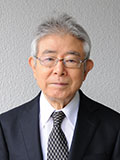 Commendation
for outstanding contributions to geology, in particular for contributions over many years to the fields of paleontology and paleoecology.
A list of five major papers
Chnzei, K. and Iwasaki, Y., 1967. Paleoecology of shallow sea molluscan faunas in the Neogene deposits of Northeast Honshu, Japan. Transactions and Proceedings of Palaeontological Society of Japan, New Series, 67, 93–113.
Chinzei, K., Savazzi, E., and Seilacher, A., 1982, Adaptational strategies of bivalves living as infaunal secondary soft bottom dwellers. Neues Jahrbuch für Geologie und Paläontologie, Abhandlungen. 164, 229–244.
Chnzei, K., 1986. Opening of the Japan Sea and marine biogeography during the Miocene. Journal of Geomagnetism and Geoelectricity, 38, 487–494.
Chinzei, K., Koike, H., Oba, T., Matsushima, Y. and Kitazato, H., 1987a. Secular changes in the oxygen isotope ratios of mollusc shells during the Holocene of Central Japan. Palaeogeography, Palaeoclimatology, Palaeoecology, 61, 155–166.
Chinzei, K., Fujioka, K., Kitazato, H. Koizumi, I., Oba, T., Oda, M., Okada, H., Sakai, T. and Tanimura, Y., 1987b. Postglacial environmental change of the Pacific Ocean off the coasts of Central Japan. Marine Micropaleontology, 11, 273–291.
Nominator
Tatsuo Oji