Junichiro Kawaguchi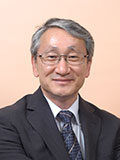 Commendation
for outstanding contributions to planetary sciences, in particular for leading to the success of the sample return missions.
A list of five major papers
Jun'ichiro Kawaguchi, Hiroshi Yamakawa, Tono Uesugi, Hiroki Matsuo, "On Making Use of Lunar and Solar Gravity Assists in Lunar-A, Planet-B Missions", Acta Astronautica, Vol.35, No.9-11, pp.633-642, 1995.
Jun'ichiro Kawaguchi, Hitoshi Kuninaka, Kyoichiro Toki, Hiroki Matsuo, Hitoshi Mizutani, "On the Low Cost Sample and Return Mission to Near Earth Asteroid Nereus via Electric Propulsion", Acta Astronautica, Vol.35, Suppl., pp.193-200, 1995.
J. Kawaguchi: A COMET NUCLEUS SAMPLE RETURN MISSION USING SOLAR ELECTRIC EARTH GRAVITY ASSIST: Adv. Space Res. Vol.29, No.8, pp.1215-1220, 2002.
J. Kawaguchi, K. Uesugi and A. Fujiwara: The MUSES-C mission for the sample and return – Its technology development status and readiness: Acta Astronautica, Vol.52, pp.117-123, 2003.
A. Fujiwara, J. Kawaguchi, D. K., Yeomans, M. Abe, T. Mukai, T. Okada, J. Saito, H. Yano, M. Yoshikawa, D. J. Scheeres, O. Barnouin-Jha, A. F. Cheng, H. Demura, R. W. Gaskell, N. Hirata, H. Ikeda, T. Kominato, H. Miyamoto, A. M. Nakamura, R. Nakamura, S. Sasaki, K. Uesugi, "The Rubble-Pile Asteroid Itokawa as Observed by Hayabusa," Science 312, pp.1330-1334, 2006.
Nominator
Masaki Fujimoto