Shigeko Togashi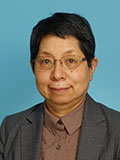 Commendation
For outstanding contributions to volcanic petrology, especially the magma genesis in Northeast Japan Arc using isotope petrology, and to the promotion of gender equality in the earth sciences

A list of five major papers
S. Togashi, T. Tanaka, T. Yoshida, K. Ishikawa, A. Fujinawa and H. Kurasawa, Trace elements and Nd-Sr isotopes of island arc tholeiites from frontal arc of Northeast Japan, Geochem. Jour. 26, 261-277, 1992.
S. Togashi and S. Terashima, The behavior of gold in unaltered island arc tholeiitic rocks from Izu-Oshima, Fuji, and Osoreyama volcanic areas, Japan, Geochimica et Cosmochimica Acta 61(3), 543-554, 1997.
S. Togashi, N. Imai, Y. Okuyama-Kusunose, T. Tanaka, T. Okai, T. Koma, and Y. Murata, Young upper crustal chemical composition of the orogenic Japan arc, Geochem. Geophys. Geosys.1.1049, Paper No.2000GC000083, AGU, 2000.
T. Tanaka, S. Togashi, H. Kamioka, H. Arakawa, H. Kagami, T. Hamamoto, M. Yuhara, Y. Orihashi, S. Yoneda, H. Shimizu, T. Kunimaru, K. Takahashi, T. Yanagi, T. Nakano, H. Fujimaki, R. Shinjo, Y. Asahara, M. Tanimizu and C. Dragsanu, JNdi-1: A neodymium isotopic reference in consistency with Lajolla neodymium, Chemical Geology 168, 279-281, 2000.
N.T. Kita, H. Nagahara, S. Togashi, and Y. Morishita : A short duration of chondrule formation in the solar nebula: Evidence from 26 Al in Semarkona ferromagnesian chondrules: Geochim. Cosmochim. Acta, 64, 3913-3922, 2000.
Nominator
Eikichi Tsukuda