Tetsuro Urabe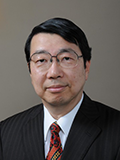 Tetsuro Urabe
Commendation
For outstanding and pioneering works on marine geology and mineral resources, and contributions to society based on professional and comprehensive knowledge.
A list of five major papers
Urabe, T., E. T. Baker, J. Ishibashi, R. A. Feely, K. Marumo, G. J. Massoth, A. Maruyama, K. Shitashima, K. Okamura, J. E. Lupton, A. Sonoda, T. Yamazaki, M. Aoki, J. Gendron, R. Greene, Y. Kaiho, K. Kisimoto, G. Lebon, T. Matsumoto, K. Nakamura, A. Nishizawa, O. Okano, G. Paradis, K. Roe, T. Shibata, D. Tennant, T. Vance, S. L. Walker, T. Yabuki, and N. Ytow (1995), The Effect of Magmatic Activity on Hydrothermal Venting Along the Superfast-Spreading East Pacific Rise, Science, 269, 1092-1095.
Urabe, T. and Kusakabe, M. (1990) Barite silica chimneys from the Sumisu Rift, Izu- Bonin arc. Earth. Planet. Sci. Lett., 100, 283-290.
Urabe, T. (1987) The effect of pressure on the partition ratio of lead and zinc between vapor and rhyolite melts. Economic Geology, 82, 1049-1052.
Urabe, T. (1985) Aluminous granite as a source magma of hydrothermal ore deposits: an experimental study. Economic Geology, 80, 148-157.
Urabe, T. and Sato, T. (1978) Kuroko deposits of the Kosaka mine, Northeast Honshu, Japan – Products of submarine hot spring on Miocene sea floor. Economic Geology, v. 73, 161-179.
Nominator
Kyoko Okino