Hiroshi Kitazato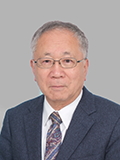 Commendation
For pioneering contributions to experimental paleontology and significant contributions to the development of biogeosciences
A list of five major papers
Kitazato, H., 1979, Marine paleobathymetry and paleotopography of the Hokuroku District during the time of the Kuroko deposition, based on foraminiferal assemblages. Mining Geol., v. 29, 207-216.
Kitazato, H., 1994, Foraminiferal microhabitats in four marine environments around Japan. Marine Micropaeontl., v. 24, no. 1, p. 29-41.
Kitazato, H., Nakatsuka, T., Shimanaga, M., Kanda, J., Soh, W., Kato, Y., Okada, Y., Yamaoka, A., Masuzawa, T., Suzuki, K. and Shirayama, Y., 2003, Long-term monitoring of the sedimentary process at the central part of Sagami Bay, Japan: Rationale, logistics and overview of results. Progress in Oceanography, v. 57, no. 1, 3-17.
Todo, Y., H. Kitazato, A. J. Hashimoto and A. J. Gooday, 2005, Simple foraminifera flourish at the ocean's deepest point. Science, v. 307, 689.
Glud, R. N-. F. Wenzhöfer, M. Middelboe, K. Oguri,R. Turnewitsch, D. E. Canfield and H. Kitazato, 2013, High rates of microbial carbon turnover in sediments in the deepest oceanic trench on Earth. Nature Geoscience, v. 6, p. 284-288.
Nominator
Hiroshi Nishi