Tatsuo Oji (Nagoya University Museum, Nagoya University)
Director of the 2014 JpGU Meeting
Chair of the Presidential Assembly of the Member Societies of JpGU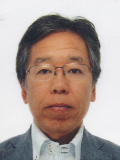 As a newly elected chair of the Presidential Assembly of the Member Societies of JpGU, I will serve as the director of the 2014 JpGU Meeting. It would be my pleasure if I could contribute to this meeting as the representative from the Palaeontological Society of Japan.
More than eight years have passed since the Union was established. Until then, many societies of earth and planetary sciences were independently acting and almost no laterally "binding" organization was present. However, the Union has established its role in representing such diversified societies during this short time. At the time when the Union was established, the number of the supporting societies was 25, but now the number has been almost doubled. Amazing is the size of the Union meeting held in every spring. In 2014, the Union will have new activities, including the first publication of its official journal and focusing on strengthening its tie with foreign Unions and Societies.
The 2014 annual Union Meeting is scheduled to be held in "Pacifico Yokohama" at Minatomirai, Yokohama, from April 28 to May 2. Yokoyama has a large port and touristic places such as foreign general cemetery and big China town, thus you may feel different atmosphere from the former meeting place, Makuhari. We expect there will be as many vigorous and new research presentations and discussions as before. We welcome your participation and contribution to the Union Meeting 2014.
Kuniyasu Mokudai (Pro Natura Foundation Japan)
Program Office Chair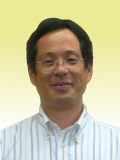 I am Kuniyasu Mokudai of Pro Natura Foundation, Japan, and I am the chair of the program committee for the 2014 JpGU meeting. I work in physical geography, geomorphology, and resource conservation science, and am part of the Human Geosciences section. JpGU 2014 will be held in Yokohama half a month earlier than when it is typically held, and we need to make renewed effort to make this a reality. We hope that JpGU 2014 will be a success. Your cooperation is greatly appreciated.