Thank you for your donation
We would like to express our heartfelt gratitude for the many donations we have received.< We will use your donation in a meaningful way to promote the advancement of our system.
Call for donation for Promote the Advancement of the Online Meeting System
We would like to express our gratitude to all of the JpGU members and participants for your continued support of JpGU activities, especially those who participated in the Japan Geoscience Union Meeting 2021 held in May – June. We feel that we could provide you with opportunities to present your research and exchange information reasonably smoothly, despite the concerns about the spread of infection. We are sure that many of our members and participants have felt the benefits of holding the meeting online and, on the other hand, realize the advantages of having it on-site. While we anticipate the resumption of on-site assemblages in the future, we believe thatit is essential for JpGU to improve by incorporating the positive aspects of virtual meetings to enhance participants' satisfaction. We also accept donations from non-members, corporations, and voluntary organizations. If you know someone near you who might be supportive, please help us expand the donation circle by forwarding our call.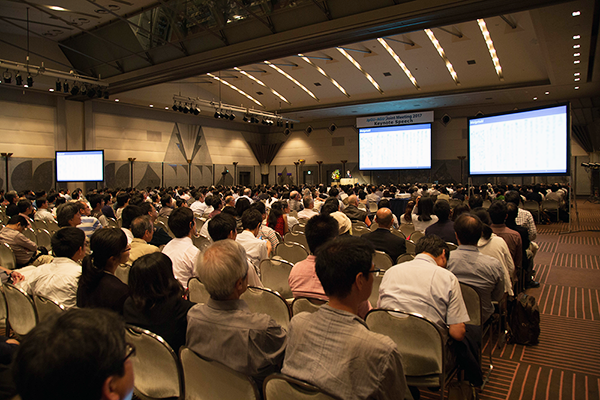 2. Application Period
January 20th, 2021 – January 31st, 2022 (or when the target amount is reached.)
March 31st, 2022
3. Amount and Total Amount
5,000 yen per unit. Total amount: 5,000,000 yen
4. Target of application
Individuals, corporations, and unincorporated organizations that support this project
5. Purpose
100% of the funds will be appropriated to cover the costs (including internal administrative costs) for the development of a system for holding online conferences and online presentations for the project "Organizing research presentations and international conferences related to earth and planetary science", which is one of the projects for public interest purposes stipulated in Article 5 of the Articles of Incorporation of the Japan Geoscience Union. Translated with www.DeepL.com/Translator (free version)
How to donate
please contact to JpGU office via e-mail below.
The name of the donor will be posted on our website. If you do not wish to be listed, please let us know.
Contact
Japan Geoscience Union
Office
office[at]jpgu.org